Redefining Retirement: New Realities for Boomer Women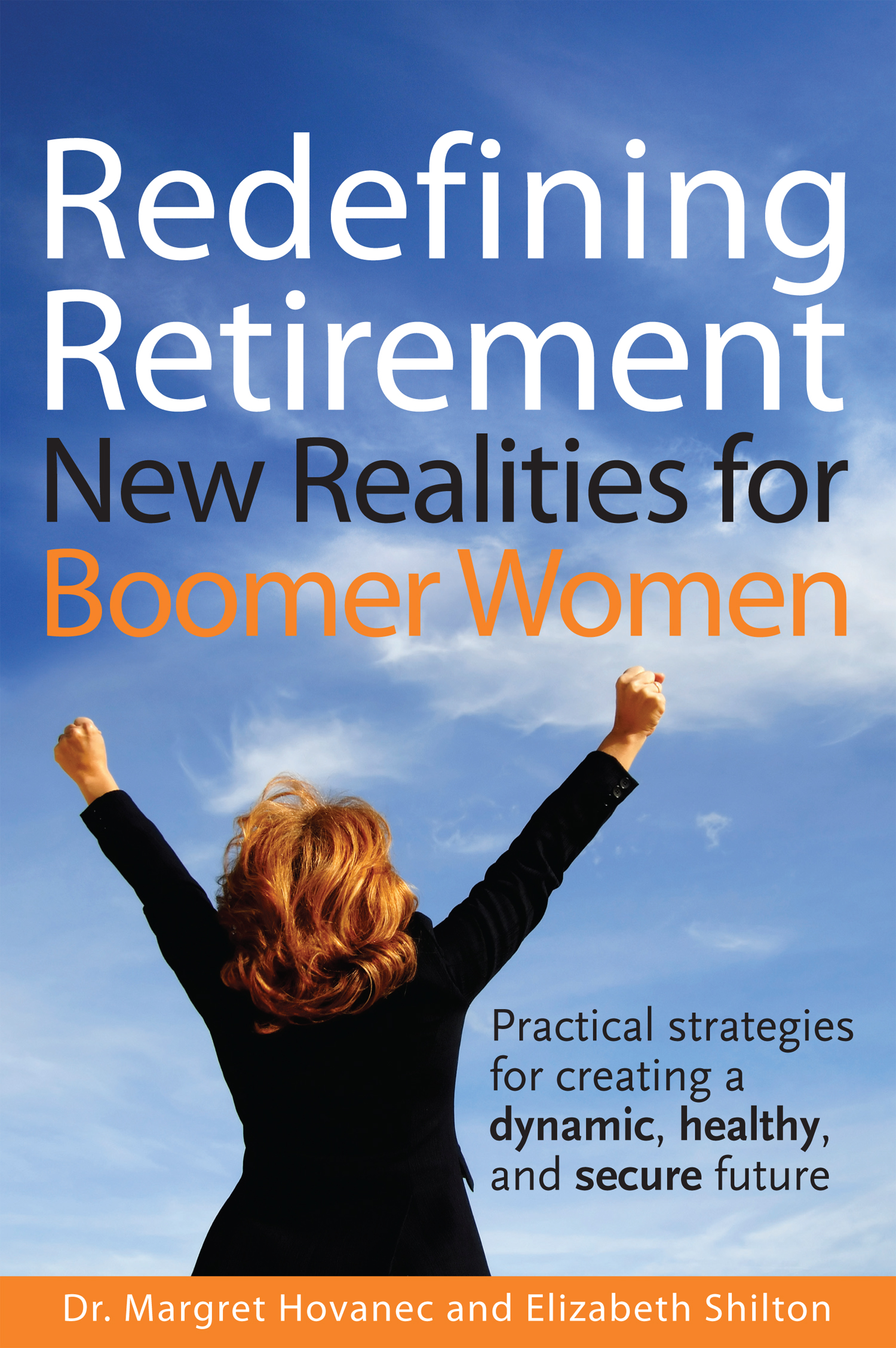 Redefining Retirement: New Realities for Boomer Women
By Dr. Margret Hovanec and Elizabeth Shilton
How to get the most out of the new phase of your life...
Boomer women are about to pass yet another milestone—RETIREMENT! The first wave of women to enter the workforce in significant numbers benefited from the feminist revolution and fought for a place in the world of work. Now these women are leading the rush for the exits.
As they near retirement age, they're wondering what was gained, what was lost, and what comes next. They're stepping out into trackless territory. This is the book that will show them that retirement is not the end of a productive life. It can be an exciting gateway into a future that is challenging and rewarding, always provided that we plan for it.
Written by two successful professional women, a lawyer and a psychologist, the book explores the practical, personal and psychological issues surrounding retirement. With clear-eyed vigor and enthusiasm they look at what retirement will mean for Canadian women, and offer concrete strategies for gaining control of the retirement process. The book offers practical advice on such topics as:
How much money you really need to retire, and how to manage your money now so you can get there sooner
How to discover what you want out of the next phase of your life and how to get it
How to deal with health and aging
How to manage our "sandwich generation" issues, and how to maintain satisfying, mutually nourishing relationships with family and friends
About the Author
Dr. Margret Hovanec is a psychologist in private practice in Toronto. Her long-standing professional interests are in work-life balance, exploring relationship issues, and women in career transition. She is a Founding Fellow of the Academy of Cognitive Therapy. She is married and her retirement is a work in progress.
About the Author
Elizabeth Shilton has recently retired from one of Canada's leading labour and employment law firms, where she was a litigator and managing partner for a number of years. She has now returned to law school to pursue doctoral studies in pension policy. She is a member of the Ontario Financial Services Tribunal and lives in Toronto.
Product Information
Release: April 17, 2007

$24.95 Paperback

288 Pages

6 x 9

Adult Nonfiction

ISBN: 9781897187210
Praise for Redefining Retirement
"A useful, good read and deserving of a wide women's audience." - The National Post