Fearless Female Journalists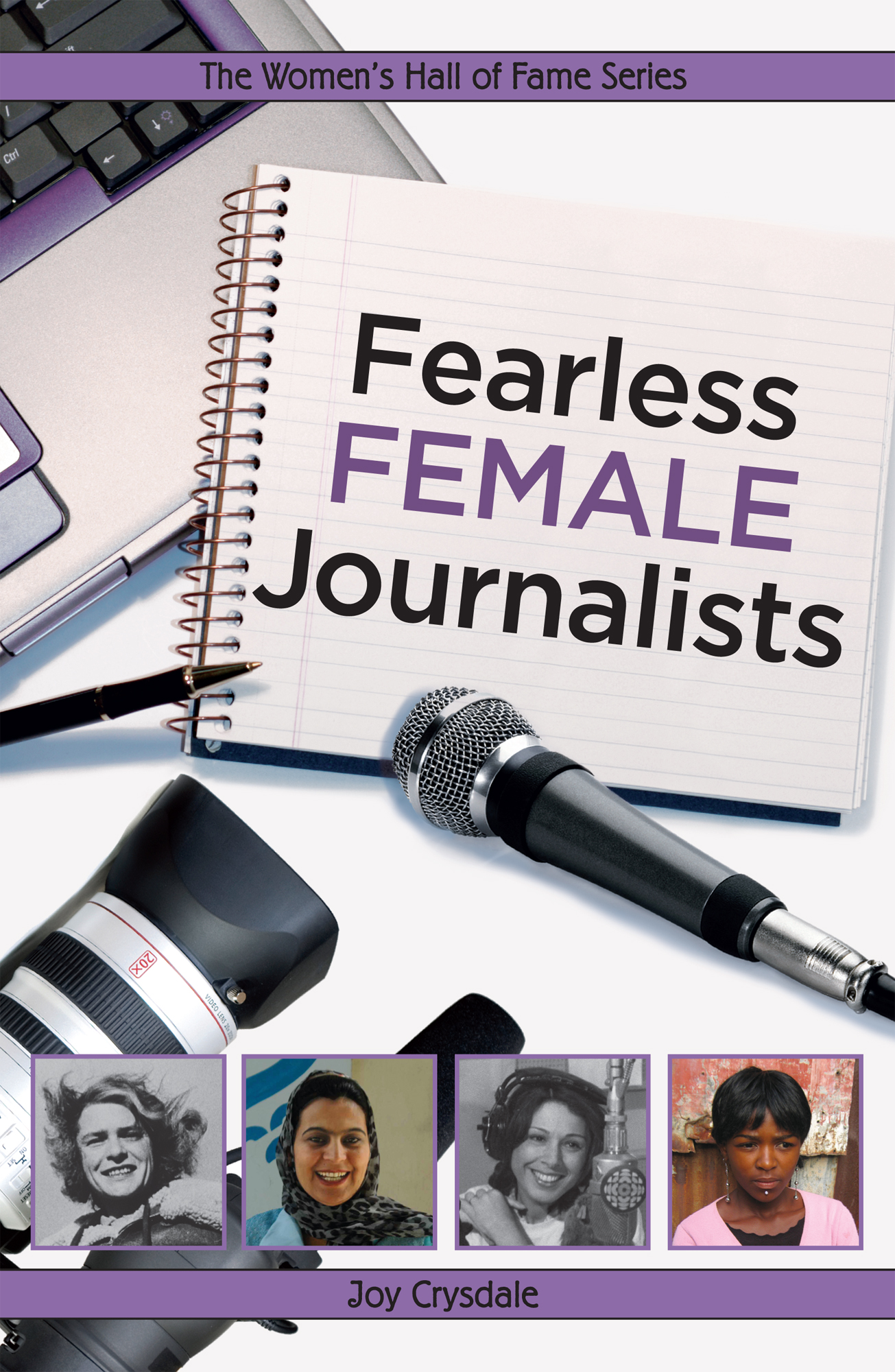 Fearless Female Journalists
By Joy Crysdale
Women who've changed the world by reporting on it.
Ten inspirational biographies of women who risked everything - including their lives - to bring us the world's stories. Whether reporting from the front lines or the anchor desk, they pushed the boundaries of print, radio, TV, and internet journalism. By reading about their lives we learn the history of modern journalism.
From abolitionist Mary Ann Shadd and stunt reporter Nellie Bly, to feminist Doris Anderson and pioneering photojournalist Margaret Bourke-White. On to TV legends Barbara Frum and Katie Couric—the first woman to be the solo anchor of a US network news desk—and sports reporter Pam Oliver. Learn about murdered Russian war correspondent Anna Politkovskaya, courageous Afghan journalist Farida Nekzad, and South African Thembi Ngubane, who recorded her own fight against AIDS. Their personal stories will inspire you as much as their intrepid journalism.
A Women's Hall of Fame Series Book
About the Author
Joy Crysdale is an educator and award-winning journalist who worked at the Canadian Broadcasting Corporation (CBC) and CTV Television for more than 20 years as a producer, executive producer and as program director for a specialty channel. The shows she produced garnered many awards, including two Geminis – Canada's TV broadcast awards. Also the author of Courageous Women Rebels, Joy is now a professor of journalism at Humber College in Toronto.
Product Information
Release: April 1, 2010

$10.95 Paperback

128 Pages

6 x 9

Children's Nonfiction

Ages 9-13 / Grades 4-8

Guided Reading: Z+

ISBN: 9781897187715
Subjects
Character Education
> Strong Female Role Models

Language Arts
> Biography
> Writing & Journalism

History & Social Studies
> Social Justice
Awards for Fearless Female Journalists
Named one of the Amelia Bloomer Project's 2011 Best Feminist Books for Young Readers - American Library Association

Canadian Children's Book Centre's "Best Books for Kids and Teens" - 2011
Praise for Fearless Female Journalists
"A Toronto journalism professor, Crysdale writes in an easy-to-read style that will interest readers nine to 13 or possibly older." - Winnipeg Free Press
"Fearless Female Journalists gives readers a new or renewed appreciation of women who have shaped the world in many exceptional ways. Mothers and daughters might enjoy reading together through the series, though readership need not be limited to girls and women. May The Women's Hall of Fame Series continue to sound out the unsung heroines." - CM: Canadian Review of Materials
"Fearless Female Journalists is a strong and highly recommended read that shouldn't be missed by any young woman with journalistic aspirations." - The Midwest Book Review
"The short biographies are just enough to whet your appetite and send you on a search for more about these amazing women." - Shameless Magazine
"We live in an age where we can access information via many different venues throughout the world almost continuously. All that information, however, is not gathered easily or without cost, and this collective biography strives to highlight the work of ten women who were so dedicated to journalism that their efforts helped to broaden the world of reporting as we know it.... this non-fiction work has been well-crafted by its author, who is also an award-winning broadcast journalist." - Kutztown University Book Review