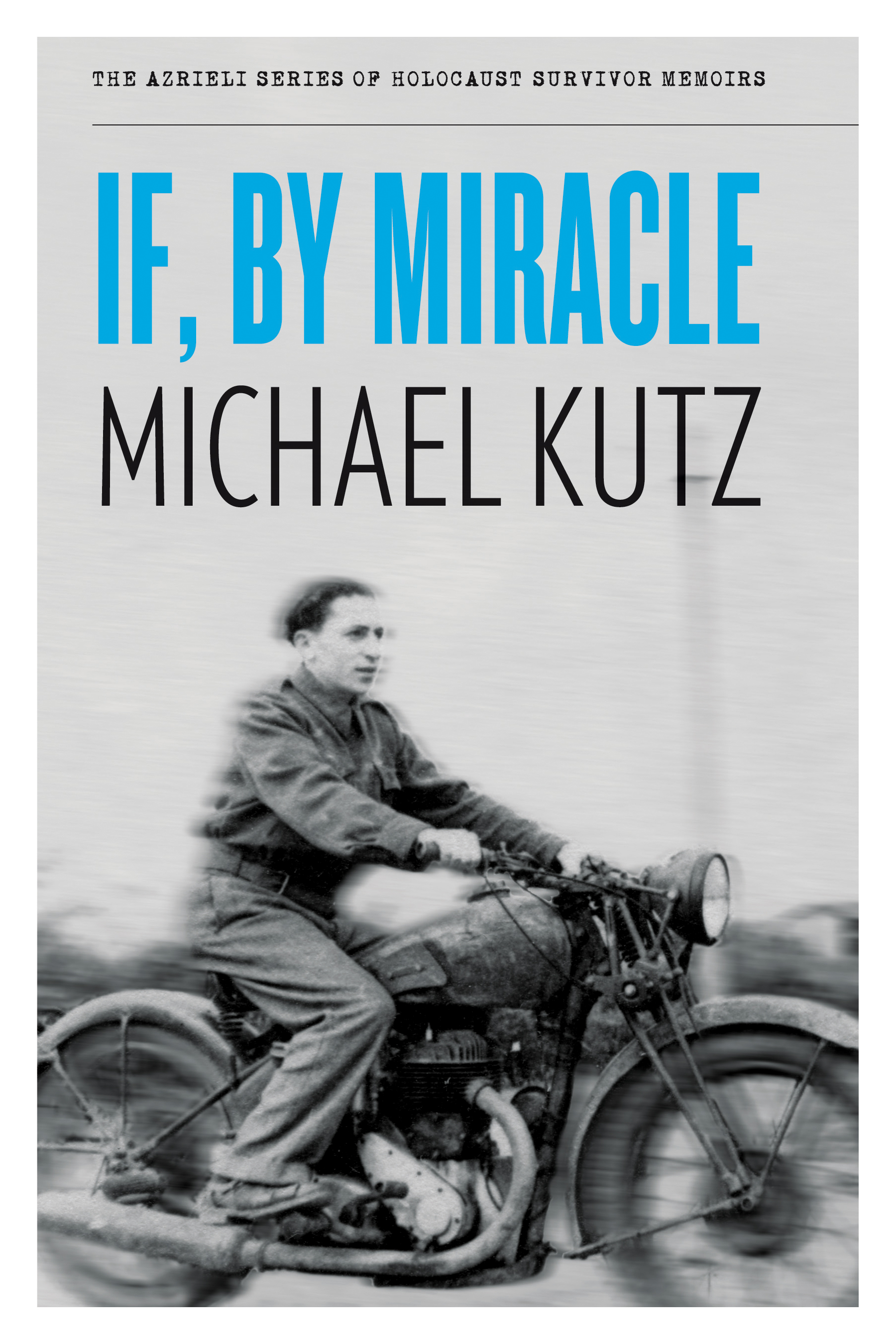 If, By Miracle
By Michael Kutz
"I didn't see anyone outside the pit, so I jumped out…. I had the feeling that my mother was running beside me and calling out to me, 'Michael, run faster and don't look back!'"
Nearly buried alive, 10-year-old Michael Kutz narrowly escapes the Nazi death squad that has killed 4,000 Jews, including his own family, in his hometown of Nieswiez. Guided by his mother's last words and determined to survive, he becomes the youngest member of a partisan resistance group in the dense Belorussian forest, taking part in daring operations against the Nazis and their collaborators. After the war, Michael embarks on an odyssey through Czechoslovakia, Austria, Italy, and, finally, Canada, as he tries to find a home where he can leave the horrors of his past behind. Translated from the original Yiddish, If, By Miracle is the gripping and compelling story of a courageous and resilient young boy searching for freedom.
About the Author
Michael Kutz was born in Nieswiez, Poland (present-day Belarus) on November 21, 1930. He arrived in Canada as a war orphan in 1948 and lived in Winnipeg before settling in Montreal in the early 1950s, where he joined various charitable organizations dedicated to helping disadvantaged youth, the elderly and war veterans. He continues to be engaged in community initiatives and regularly speaks to students about the Holocaust. Michael Kutz and his wife, Pat, live in Montreal.
Product Information
Release: May 3, 2013
$14.95 Paperback
224 Pages
6 x 9
ISBN: 9781897470350
The Azrieli Series of Holocaust Survivor Memoirs
Since the end of World War II, over 30,000 Jewish Holocaust survivors have immigrated to Canada. Who they are, where they came from, what they experienced and how they built new lives for themselves and their families is an important part of our Canadian heritage. The Azrieli Series of Holocaust Survivor Memoirs is guided by the conviction that each survivor of the Holocaust has a remarkable story to tell, and that such stories play an important role in education about tolerance and diversity. Millions of individual stories are lost to us forever. By preserving the stories written by survivors and making them widely available to a broad audience, the Holocaust Survivor Memoirs series seeks to sustain the memory of all those who perished at the hands of hatred, abetted by indifference and apathy. The personal accounts of those who survived against all odds are as different as the people who wrote them, but all demonstrate the courage, strength, wit and luck that it took to prevail and survive in such terrible adversity. The memoirs are also moving tributes to people – strangers and friends – who risked their lives to help others, and who, through acts of kindness and decency in the darkest of moments, frequently helped the persecuted maintain faith in humanity and courage to endure. These accounts offer inspiration to all, as does the survivors' desire to share their experiences so that new generations can learn from them. Recognizing that most survivor memoirs never find a publisher, the Azrieli Foundation established the Holocaust Survivor Memoirs Program to collect, archive and publish these distinctive records.