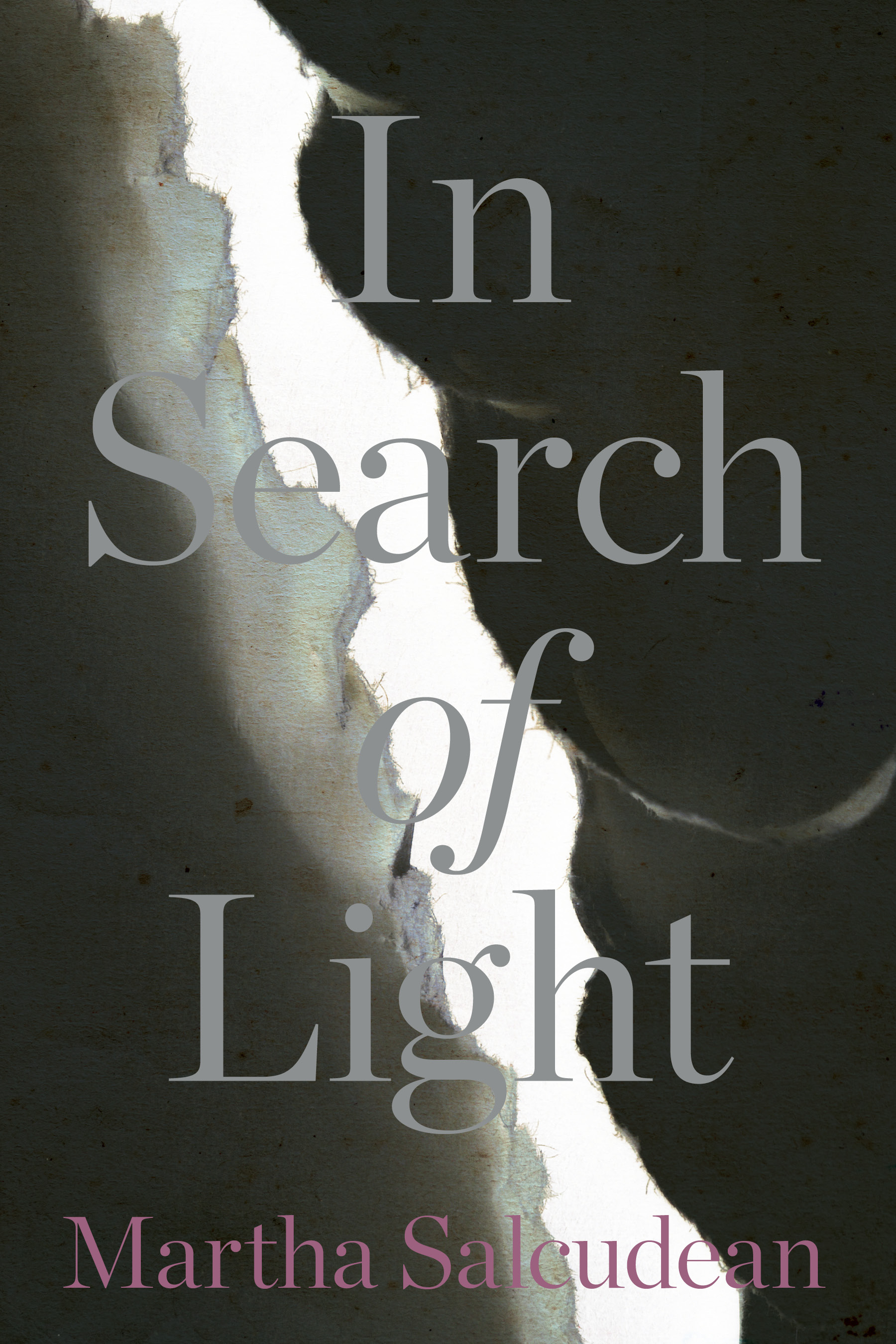 In Search of Light
By Martha Salcudean
Martha Salcudean grows up in the small village of Chiochiș Romania, blissfully unaware of the fascist and antisemitic Iron Guard militia, and she quickly adapts to the abrupt change in her life when the town she lives in comes under the control of Hungary in 1940. But her childhood is soon marred by more political upheavals, and her parents cannot shelter her from the danger that looms for all Jews when Germany occupies Hungary in the spring of 1944. Forced into ghettos, Martha experiences such cruelty and hatred that at ten years old, she no longer feels like a child. Then Martha's fate changes in an instant with one split-second decision her father makes to board a different train — instead of going to Auschwitz she becomes one of those destined to be saved by Rudolf Kasztner, a man riskily negotiating with the Nazis. Although Martha and her parents are soon incarcerated in the Bergen-Belsen concentration camp, their status is somewhat protected, and their suffering and trauma ends when they are eventually sent to refuge in Switzerland. After the war, Martha and her parents return to Romania, but when the communist dictatorship takes hold, Martha again finds herself living in fear and unable to control her own life, and she is determined to escape with her new family to freedom.
About the Author
Dr. Martha Salcudean was born on February 26, 1934, in Chiochiș, Romania. After the war, she earned a bachelor's and post-graduate degrees in mechanical engineering. At Bucharest's Research Centre for Metallurgy, she spent twelve years working in the area of heat transfer and fluids. After much effort, Martha left communist Romania, and in 1976 she came to Canada. From 1976 to 1985 she was a professor at the University of Ottawa, and in 1985 was appointed head of the Department of Mechanical Engineering at the University of British Columbia, the first female to hold the position of engineering department head in Canada. Martha Salcudean has published extensively in the area of heat transfer and fluid flow, serves on numerous distinguished committees and advisory boards, and has received three honorary doctorates and a number of prestigious awards and honours in her field, including the Commemorative Medal for the 125th Anniversary of Canadian Confederation (1993); the Engineering Institute of Canada's Julian C. Smith Medal (1995); the Izaak Walton Killam Memorial Award in Engineering (1998); the Order of British Columbia (1998); Officer of the Order of Canada (2004); and the Queen Elizabeth II Diamond Jubilee Medal (2012). Martha Salcudean is professor emeritus at UBC and lives in Vancouver.
Product Information
Release: April 15, 2019

$14.95 Paperback

200 Pages with Photos

6 x 9

ISBN: 9781988065540
The Azrieli Series of Holocaust Survivor Memoirs
Since the end of World War II, over 30,000 Jewish Holocaust survivors have immigrated to Canada. Who they are, where they came from, what they experienced and how they built new lives for themselves and their families is an important part of our Canadian heritage. The Azrieli Series of Holocaust Survivor Memoirs is guided by the conviction that each survivor of the Holocaust has a remarkable story to tell, and that such stories play an important role in education about tolerance and diversity. Millions of individual stories are lost to us forever. By preserving the stories written by survivors and making them widely available to a broad audience, the Holocaust Survivor Memoirs series seeks to sustain the memory of all those who perished at the hands of hatred, abetted by indifference and apathy. The personal accounts of those who survived against all odds are as different as the people who wrote them, but all demonstrate the courage, strength, wit and luck that it took to prevail and survive in such terrible adversity. The memoirs are also moving tributes to people – strangers and friends – who risked their lives to help others, and who, through acts of kindness and decency in the darkest of moments, frequently helped the persecuted maintain faith in humanity and courage to endure. These accounts offer inspiration to all, as does the survivors' desire to share their experiences so that new generations can learn from them. Recognizing that most survivor memoirs never find a publisher, the Azrieli Foundation established the Holocaust Survivor Memoirs Program to collect, archive and publish these distinctive records.