Extraordinary Women Explorers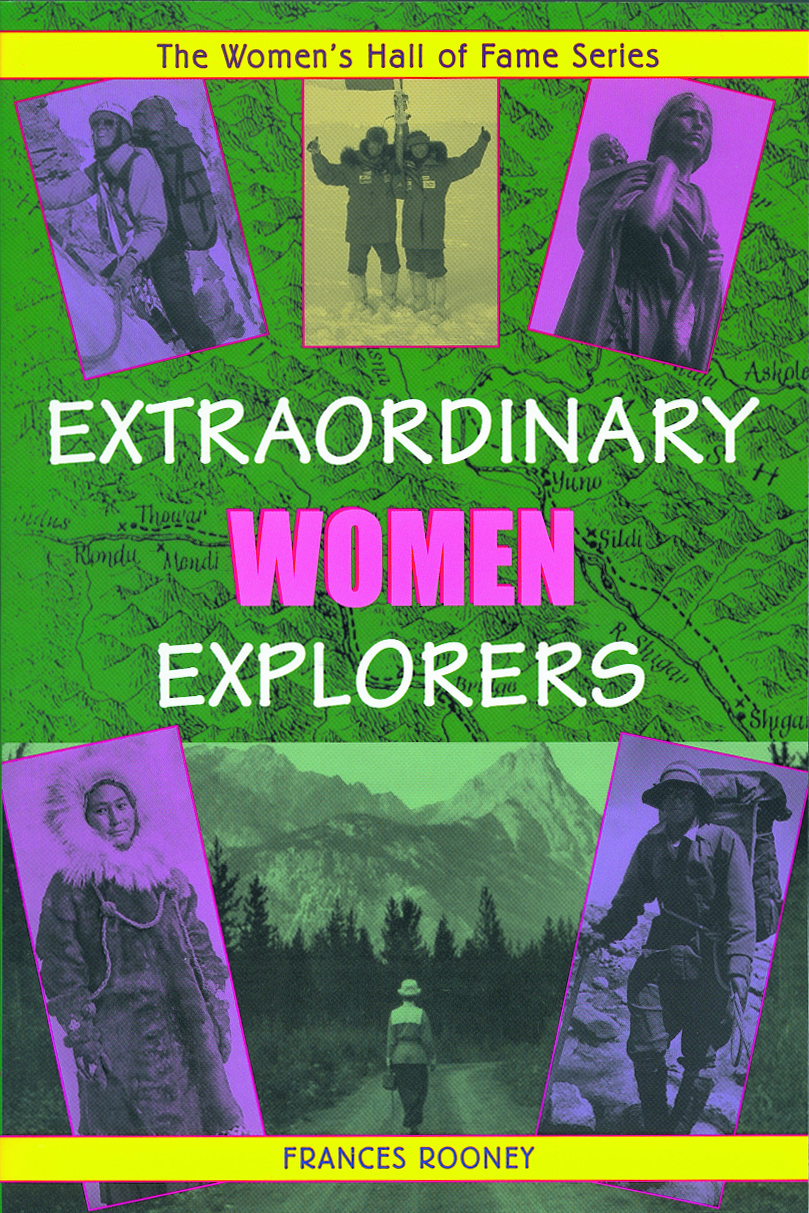 Extraordinary Women Explorers
By Frances Rooney
A thirst for adventure, a deep desire to push themselves beyond their comfort zones, and innate curiosity about the world and its peoples fill the 10 biographies in Extraordinary Women Explorers.
The sixth book in the popular Women's Hall of Fame Series includes photos and sidebars containing fun facts and quotes. Canadians, Americans, Inu, Native, French and Irish women walk, bike, climb, sail, ride donkeys, horses and camels as they explore tens of thousands of miles over four continents. Their insatiable curiosity, drive, and sense of adventure propel them to discover the world around them and their own abilities and potential. As explorers, they bring skills in cartography, geography, history, anthropology, botany, photography, linguistics, and writing to their travels.
Their stories begin with Sacagawea, a Native guide in the Lewis and Clark expedition in 1805, and end in the present, with Mattie McNair and Denise Martin, the Canadian leaders of Arctic and Antarctic expeditions. These are stories of women who dare to push beyond their own communities in order to live their dreams.
About the Author
Frances Rooney is a writer, editor, and spiritual director who lives in Toronto. Her books include Working Light: The Wandering Life of Photographer Edith S. Watson (published in Canada, the U.S. and Britain) and Our Lives (finalist for the Lambda Award).
Product Information
Release: November 24, 2005

$10.95 Paperback

120 Pages

6 x 9

Children's Nonfiction

Ages 9-13 / Grades 4-8

ISBN: 9781896764986
Subjects
Character Education
> Strong Female Role Models

Language Arts
> Biography

History & Social Studies
> Global Cultures

Geography
Praise for Extraordinary Women Explorers
"Most of the dozen adventurous women described here had a few things in common: an insatiable curiosity, a need to challenge the mind and the body, and a desire to share with others what they learned." - School Library Journal
"This is a fascinating book about women explorers... All of these women faced hardship and public disapproval to travel and see new places. As such, they are an inspiration to all women who hunger to go beyond the limits of their safe environments." - Resource Links
"To select only a handful of women from among many prime candidates must be no easy venture for the authors of this series. Rooney's assemblage, however, shows incredible attention to diversity... the content is excellent... Recommended." CM: Canadian Review of Materials