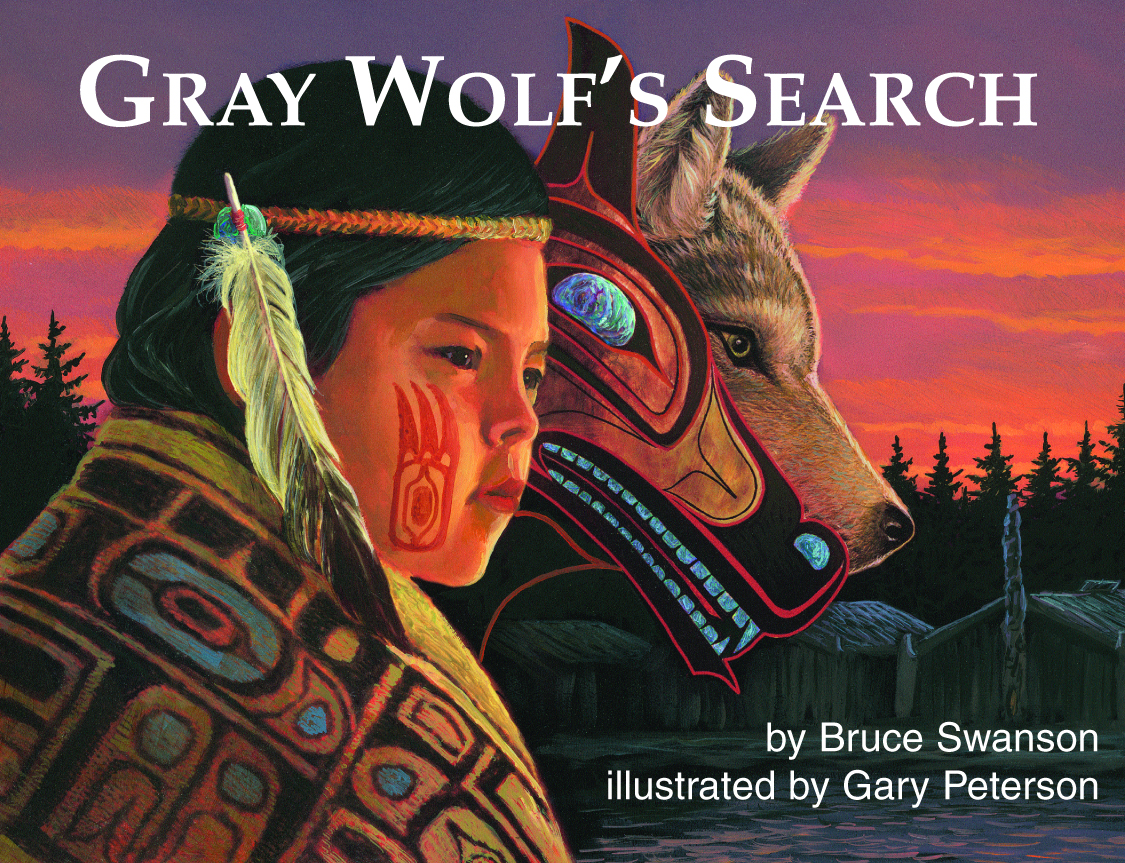 Gray Wolf's Search
Written by Bruce Swanson and Illustrated by Gary Peterson
Coming of Age in the Wolf Clan...
In this richly illustrated picture book, young Gray Wolf lives on the Pacific Northwest coast with the other members of the Wolf Clan. His uncle—the clan shaman—tells Gray Wolf that his future success depends on completing an important task... Gray Wolf must find a very important person and get to know him well.
In his search for this person, Gray Wolf enlists the help of his brothers and sisters in the woods and waters: Eagle, Bear, Whale, Beaver, Owl, and Wolf. Each of them gives Gray Wolf an important clue to the identity of the person he seeks. When he returns to his clan, an older and wiser Gray Wolf takes the talking stick from his uncle and shares his new wisdom.
About the Author
Bruce Swanson's thirty years of teaching history has often focused on the culture of First Nations. His practice of telling stories to his own four children laid the groundwork for Gray Wolf's Search. He makes his home in the Puget Sound region of Washington State.
About the Illustrator
Gary Peterson has painted the Pacific Northwest for almost fifty years. When he married a Tlingit woman, he was adopted by the Kaach.adi Clan and was named Walking Raven. His style combines the strengths of indigenous culture with a love of the natural world.
Product Information
Release: March 1, 2007

$18.95 Hardcover with Jacket

24 Pages

12.25 x 9.25

Children's Picture Book

Ages 6-10 / Grades 2-5

Guided Reading: N

ISBN: 9780977918317
Subjects
Character Education
> Family & Friendship

Reflecting Diversity
> First Nations & Indigenous Peoples
Praise
"The appeal of the book is not limited to children of First Nation descent. The message contained herein is for one and all." - CM: Canadian Review of Materials
"The artist draws on the primal vibrance of indigenous culture in the captivating illustrations of this recommended book." - The Midwest Book Review