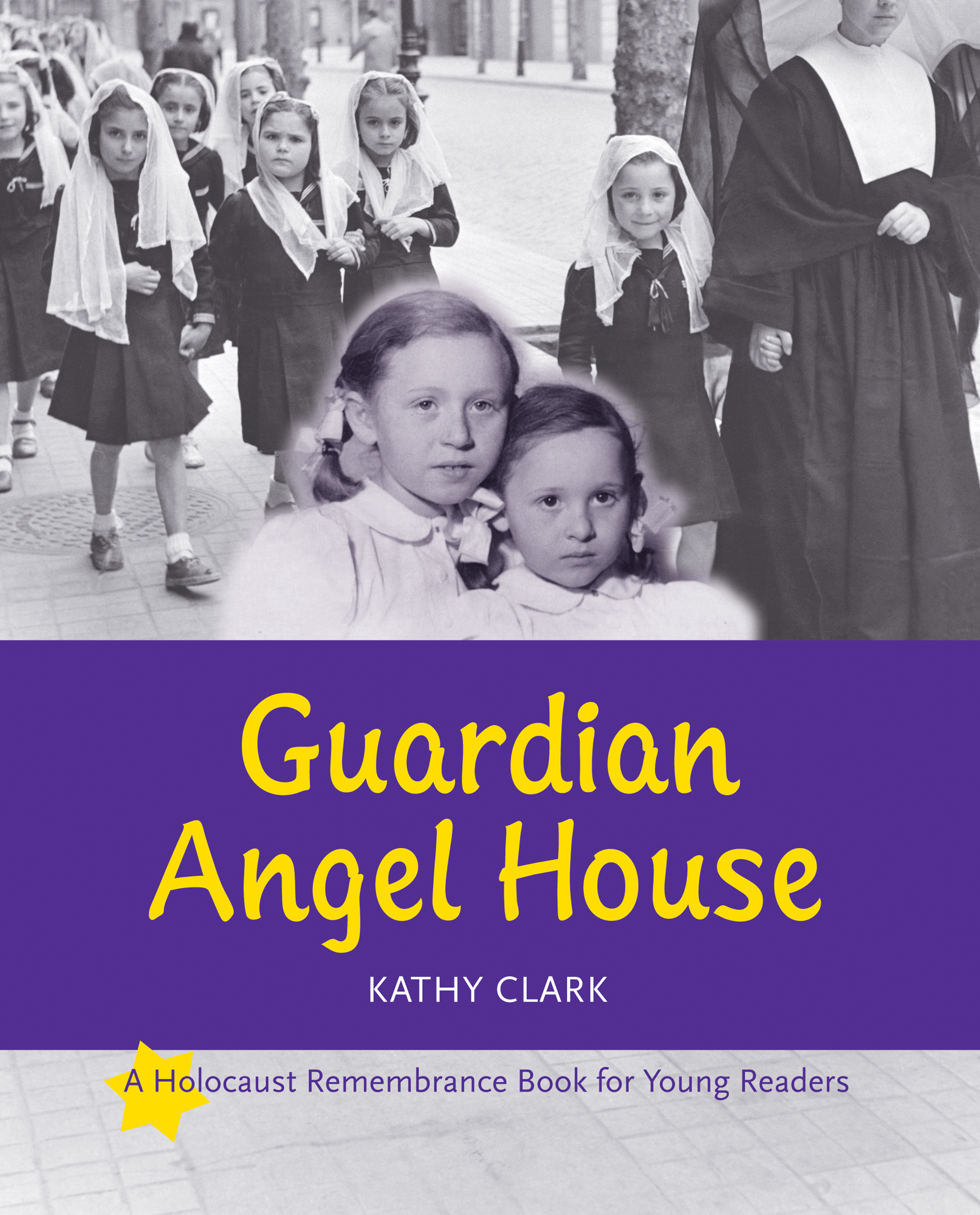 Guardian Angel House
By Kathy Clark
Based on the true story of two sisters sheltered from the Nazis by a group of Catholic nuns during World War II.
Mama had always told twelve-year-old Susan that there was no safe place for a Jew, especially in German-occupied Hungary in 1944. Susan is skeptical and afraid when she and her little sister, Vera, are sent to a convent to be kept "safe" from the Nazis. Susan and Vera find their lives transformed and soon discover the true nature of courage when they are sheltered by a group of nuns who risk their lives to protect them.
"Guardian Angel House" was the nickname given to a convent operated by the Sisters of Charity in Budapest that sheltered over 120 Jewish children in German-occupied Hungary during World War II. This book tells the story of author Kathy Clark's mother and aunt, who were sheltered there by the nuns.
Includes historical photographs and notes about the author's family and the Hungarian convent that became known as "Guardian Angel House."
About the Author
Kathy Clark wrote Guardian Angel House after watching a Hungarian documentary about the nuns at the Sisters of Charity convent in Budapest and realizing that these were the people who had rescued her mother and aunt. She was especially impressed by the great respect that the nuns showed for the religious beliefs of their wards. She is also the author of another Holocaust Remembrance Book for Young Readers called The Choice. Kathy lives in Kanata, Ontario, with her family.
Product Information
Release: April 1, 2009

$14.95 Paperback

228 Pages

6.5 x 8

Children's Fiction

Ages 9-13 / Grades 4-8

Guided Reading: Y

ISBN: 9781897187586
Subjects
Character Education
> Prejudice & Tolerance

Language Arts
> Historical Fiction

History & Social Studies
> War & Conflict

Holocaust Studies
Resources
Awards for Guardian Angel House
2011 Red Maple Non-Fiction Award Finalist - Ontario Library Association's Forest of Reading

2010 Bank Street College of Education's "The Best Children's Books of the Year" - Ages 9-10

Canadian Children's Book Centre's "Best Books for Kids and Teens" - Fall 2010
Praise for Guardian Angel House
"The book is well told and fast paced. Young readers, especially girls, will admire the characters and find the book suspenseful and easy to understand, yet also very educational." - The Canadian Jewish News
"A touching tribute to the Righteous Gentiles of the Guardian Angel House and a highly readable introduction to the Holocaust." - School Library Journal
"A moving story with roots in fact, Guardian Angel House is a great way to teach young readers about the Holocaust through fiction." - The Midwest Book Review