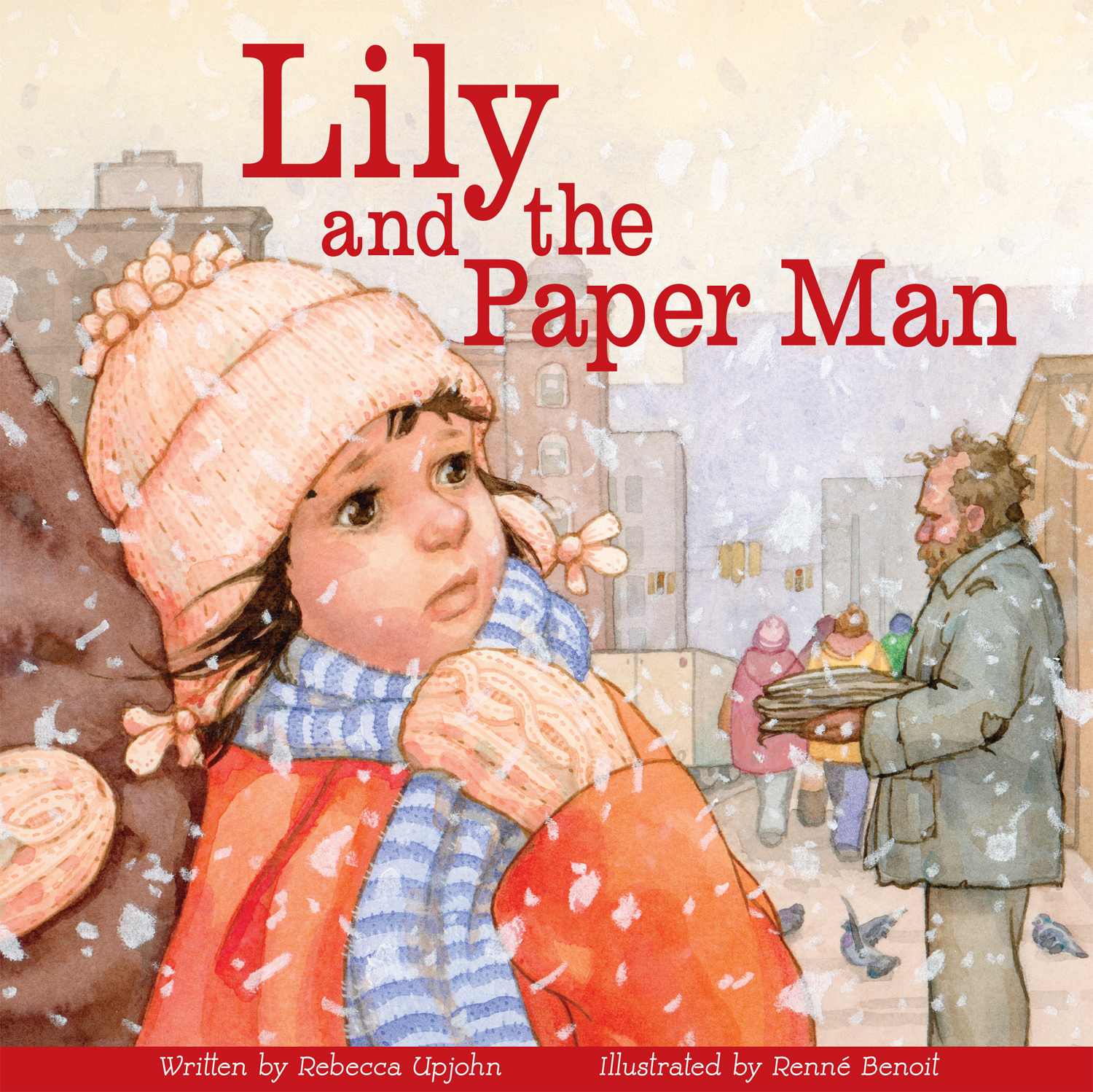 Lily and the Paper Man
Written by Rebecca Upjohn and Illustrated by Renné Benoit
Winner of ForeWord Magazine's 2007 Picture Book of the Year! Nominated for the 2009 Shining Willow by the Saskatchewan Young Readers' Choice Awards!
"This sensitive, gentle tale with its bright, visceral illustrations is about homelessness and one child's reaction to the reality of it." - The Globe and Mail
Walking with her mother on the way home from school one day, Lily runs straight into a gruff and untidy-looking man selling papers on the street. Lily is afraid of the man, but when the weather turns cold, she starts to see the Paper Man differently--she sees his bare toes through the holes in his boots and his thin shirt through the holes in his coat. As she lies in her cozy bed at night, she wonders how the Paper Man stays warm. Then Lily comes up with a wonderful idea - she'll make him a gift of warm clothes.
For more on Lily visit Rebecca's website www.rebeccaupjohn.com
About the Author
Rebecca Upjohn has worked as an architectural photographer, sheep farmhand, bookstore helper, and more recently a writer and film producer for an independent short film for children called The Go Cart. Rebecca lives in Toronto with her husband, Don and their two sons, Harris and Emmett. The author of the picture books Lily and the Paper Man, The Secret of the Village Fool, and Patrick's Wish, she is interested in characters who reach out to help others. She divides her time between New Hampshire and Ontario.
About the Illustrator
Renné Benoit has been drawing pictures since she could hold a crayon. She now works out of her home studio in Southern Ontario. Her recent work includes When-I-was-a-little-girl by Rachna Gilmore and Goodbye to Griffith Street by Marilynn Reynolds, which was shortlisted for the Amelia Frances Howard-Gibbon award, and won the Christie Harris Illustrated Children's Literature Prize in 2005.
Product Information
Release: September 30, 2007

$15.95 Hardcover with Jacket

24 Pages

8.5 x 8.5

Children's Picture Book

Ages 4-8 / Grades K-3

Guided Reading: N

ISBN: 9781897187197
Subjects
Character Education
> Courage
> Empathy
> Strong Female Characters

History & Social Studies
> Social Justice
Awards for Lily and the Paperman
2007 ForeWord Magazine Picture Book of the Year Winner

2008 Blue Spruce Award Finalist - Ontario Library Association's Forest of Reading

2009 Shining Willow Award Finalist (Saskatchewan Young Readers' Choice Award - SYRCA)

2007 Governor General's Award for Children's Literature (Illustrated) Longlisted Nominee
Praise for Lily and the Paperman
"This sensitive, gentle tale with its bright, visceral illustrations is about homelessness and one child's reaction to the reality of it." - The Globe and Mail
"Of course poverty and the other social ills that lead to homelessness can't be solved with one bag of clothes, but Upjohn's straightforward tale and Benoit's nicely unromantic illustrations give kids some ideas for practical action. The story's a good reminder that even in the post-holiday season, the world needs generosity and sympathy of spirit." - Toronto Star
"The sensitive text and matching illustrations blend well to create a story of making a positive difference in our world today." - CM: Canadian Review of Materials
"A gentle story about the value of compassion, Lily and the Paper Man features involved text and is ideal for young readers who are about ready to make the transition from picturebooks to more involved fare." - The Midwest Book Review
"The compassionate, realistic story will involve preschoolers, who may recognize not only that the joy of stormy weather depends on having shelter but also that they can do something besides avert their eyes from someone else's suffering." - Booklist