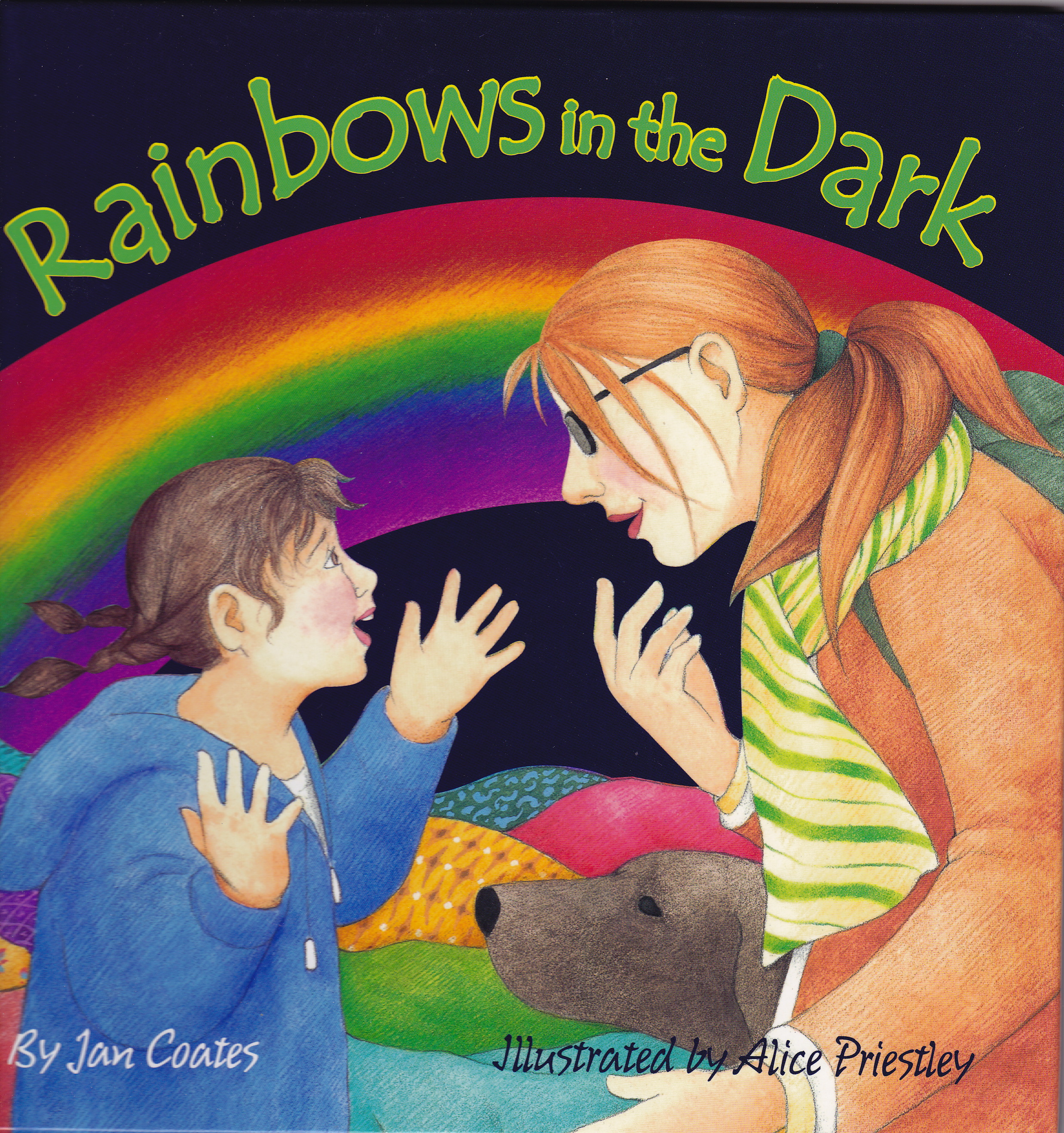 Rainbows in the Dark
Written by Jan Coates and Illustrated by Alice Priestley
Abby hates visiting the second-hand clothing shop with her motheruntil she meets Joanna and Charlie. Charlie is Joanna's guide dog, a loyal friend and worker who helps her to see, but he's no help in picking out clothes for a very special event.
With Abby's assistance, a wonderfully colorful outfit is soon ready for Joanna. To thank her new friend for her help, Joanna gives Abby and her mother tickets for an unspecified event. They decide to go. What a surprise for a young girl when she sees Joanna at a concert recital, wearing the clothes she helped to choose!
Joanna's gift of music and magic creates a perfect ending and proves there is no harm in wishing for rainbows.
About the Author
Jan Coates lives in Nova Scotia with her husband, two children and a beagle. Digging for "treasure" in used clothing stores is one of her favorite pastimes. This is her first book.
About the Illustrator
Alice Priestley has illustrated numerous books including five other children's stories. Out on the Ice in the Middle of the Bay was shortlisted for a Mr. Christie Book Award and the Amelia Frances Gibbon Award. Her other books include Winning the Girl of the Sea, The Watcher, Clouds on the Mountain and Someone's Reading This Book. She lives in Toronto with her husband and children.
Product Information
Release: September 1, 2005

$14.95 Hardcover

24 Pages

8.5 x 8.5

Children's Picture Book

Ages 4-8 / Grades 2-5

ISBN: 9781896764955
Subjects
Character Education
> Empathy

The Arts
> Music

Reflecting Diversity
> Abilities
Praise for Rainbows in the Dark
"Jan Coates gives her young readers a taste of what it is like to be blind; however, she does so in a lovely and up-beat manner... Rainbows in the Dark is a heart-warming read aloud and would make a nice addition to public library and elementary school library collections." - CM: Canadian Review of Materials
"A delightfully written and colourfully illustrated book that would appeal to young children as a read-aloud." - ETFO Voice (Elementary Teachers' Federation of Ontario)
"Children will see that being blind doesn't slow Joanna down, and maybe wishes do come true sometimes!" - Resource Links
"It is just the sort of book to help youngsters learn what it means to have a physical challenge." - Halifax Chronicle-Herald
"The dialogue is sure, the artwork expressive and sensitive and the story is a lovely one." - The Brandon Sun